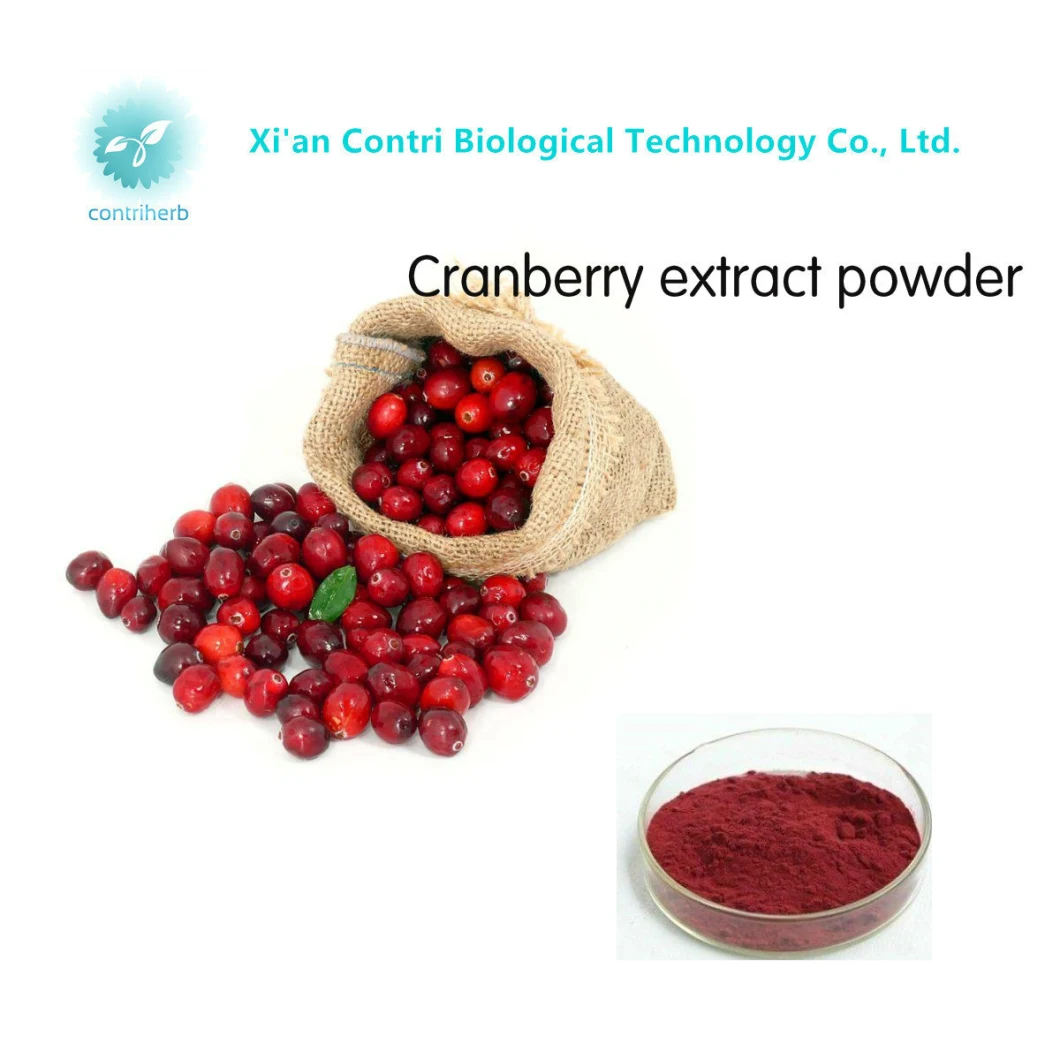 Name of Product:Cranberry P.E.
Latin Name: Vaccinium Macrocarpon L.
Part of Used: berries
Active Ingredients: Procyanidins
Specification Available: UV 10%-25% or Extract Ratio10:1, powder juice powder
Characteristic
Appearance:purple to red Fine Powder

Plant Origin and Distribution
Cranberry juice powder is made from fresh cranberry , adopt the advanced spray drying technology. Cranberry juice powder are a good source of vitamin C, fiber and vitamin E. Cranberry juice powder also contain vitamin K, manganese and a large array of phytonutrients, naturally occurring plant chemicals that help to protect the body from harmful free radicals and offer anti-inflammatory and cancer-preventing properties.
Product Description
1. Function
1. Treat heart diseases such as high blood pressure and high cholesterol.
2. Provide supplementation for sunscreen protection.
3. Interfere with disease cell growth and prolifaration, as well as induce apoptosis.
4. Be active against HIV by inhibiting virus expression and replication.
5. Inhibiting oral sugar metabolism and retard grwoth of certain bacteria
6. Enhancing bone density and strength. (cranberry juice powder)
2. Usages:
1.Drug Use:
C
ranberry
extract is used to treat diarrhea, scurvy, and other conditions. It's very effective in treating diarrhea, menstrual cramps, eye problems, varicose veins, venous insuffiency and other circulatory problems including diabetes.
2.Food Additives:
C
ranberry
extract has so many healthy functions, billberry extract is also added to food to strengthen the flavor of food and benefit human health at the same time.
3.Cosmetic:
C
ranberry
extract is helpful to improve skin situation. It's effective in fading out freckle, wrinkle and making skin smooth.
| | | |
| --- | --- | --- |
| Heavy Metal | <20ppm | AAS |
| Pb | <2ppm | AAS |
| As | <2ppm | AAS |
| Hg | <0.5ppm | AAS |
| Cd | <1ppm | AAS |